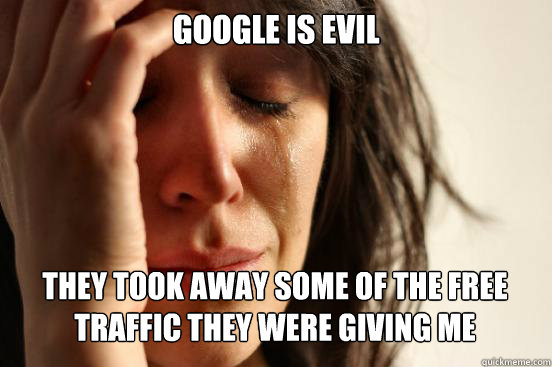 Many moons ago, I wrote a post calling out Aaron Wall – someone I greatly respect – for going a bit overboard on the Google bashing tip (FYI – make sure to read that post all the way to the end and check out that eye sore of an anchor text drop I managed to insert in there).
Fast-forward five years and Aaron is still dipping into that well regularly, which is fine, because he also happens to be one of the few online marketers that speaks to themes that transcend marketing and deal with more fundamental, human, societal issues. I keep telling him that he should break away from marketing and focus on some of these truly pressing issues but he just won't listen ; )
Anyhow, what I really want to address is the somewhat alarming and frankly perplexing trend I've been noticing as of late. It seems like with every passing day, more and more prominent online marketers are following Aaron's lead and spending their time addressing the economic, philosophical, and even moral implications of Google's business decisions.
Today, the topic of discussion centered on bashing Google for deciding to turn off the remnants of what was once a completely free traffic spigot that used to be known as Google Product Search. And while I get that it pays (e.g. leads to increased social follower counts) to wax poetic on the hot topics of the day, I am vehemently opposed to devoting more than a few seconds of my life analyzing how Google's decisions regarding their product feed engine might or might not reflect a poor (or even non-existent) ethical stance.
Why?
Well for starters, if you're so concerned about the moral and ethical well-being of human society, might I suggest that you look past Google's relatively tame transgressions and focus your efforts on this, or this, or even this (among other things).
Secondly, and from a more pragmatic perspective, lamenting the ills inherent in Google's current business model won't move the needle for your business in any tangible way (unless you are in the business of being a thought leader that's paid to share their opinions on goings on in the search engine marketing space). So instead of doing that, consider investing that time into capturing the market share that goes up for grabs every time Google changes the game in one way or another.
I can tell you that my team is all over this Google Shopping paradigm shift, and we're already mobilizing and poised to snatch away every sliver of revenue we can from any competitors that either fall asleep at the wheel or get caught up complaining instead of responding to this latest evolution in the digital marketplace.
And we welcome any and all tweaks that may be in the works and actively try to predict where, when, and how those tweaks might manifest themselves, because we know that it affords us another opportunity to innovate and outmaneuver competitors that fail to recognize the evolutionary nature of this digital marketing ecosystem of ours.
And building that type of visionary, forward-thinking culture affords little to no time for crying over Google's spilled milk.